Ready to Eat Sandwiches were originally developed for the United States Military as combat rations for troops on-the-go. The Military required a sandwich with a three year shelf life, that tastes as great on day 1,095 as it does on day 1!

When originally tested by Natick (the division of the U.S. Army, responsible for researching and managing food, clothing, shelters, and support items for soldiers), the product received one of the highest acceptance scores of any new product introduction!





Our Ready to Eat Sandwiches were also tested with the United States Marines during an operation in Fallujah, and are currently incorporated into the US Military "First Strike Ration" MRE.

Bridgford Ready to Eat Sandwiches are produced in our Statesville production facility, under a grant of inspection with the USDA/FSIS. We are also inspected by the USDA/AMS, FDA, NCDA, VETCOM, Silliker and a handful of other agencies.

All of the meat and poultry that we use is purchased from USDA facilities and BSE tested to ensure the highest quality.

PLEASE NOTE: Shipping charges for this item may have to be increased or adjusted. You will be contacted if necessary.

Storage of Ready to Eat Sandwiches

All Bridgford shelf stable sandwiches have a 3-year shelf-life if maintained at 80 degrees or less. Sandwiches can be stored at 100 degrees for six months.

Heating and Eating of Ready to Eat Sandwiches:

Sandwiches are designed to be eaten straight from pouch; however, they can also be heated via one of the following methods:


AS IS: Tear open the pouch at tear notches. Remove Sandwich and eat.
MRE/FLAMELESS HEATER: Place unopened pouch in MRE/Flameless Heater and follow the MRE/Flameless Heater heating instructions. Tear open the pouch at tear notches. Remove Sandwich and eat.
BOILING WATER: Immerse unopened pouch in boiling water for 6 minutes.* Tear open the pouch at tear notches. Remove Sandwich and eat.
MICROWAVE: Remove sandwich from pouch, wrap in a paper towel and microwave on high for 20 to 30 seconds.*


TOASTER OVEN: Remove sandwich from pouch, place on a baking sheet, and place in an oven at 350ºF for 8 to 10 minutes.*

*(recommended heating times.)

Frequently Asked Questions:

What is put in the sandwiches to make them stand up to shelf life?

It's a combination of packaging and processing. In terms of packaging no light breaches the tri-laminated foil pouch and no oxygen is contained with in the package and hence no bacteria formation. In terms of processing sodium is utilized in the preservation of the product however the product contains less than a can of soup.

Are there any made with gluten-free breads?

No.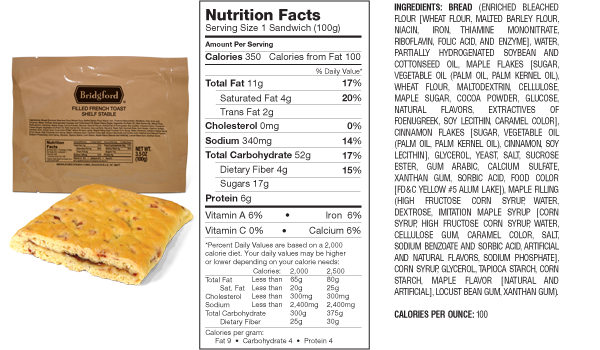 SHIPPING TIMES: Most, but not all orders leave our warehouse within 3 business days, some orders may take longer. Allow time from the day we ship for FedEx, UPS or the USPS to deliver it to you from Upstate NY. Please call for rush orders before 2:00 Eastern time. That means that some items, to some locations could take two weeks or more. Remember, we're a 50 year old family run business, so feel free to call us for a rush. We can get most of our items out the same day and use next day air and get it to you tomorrow, but you need to call before 2:00 Eastern time.

SHIPPING CHARGES: To determine your shipping charge, simply add the items that you want to buy into your pack/shopping cart and click on the Secure Checkout button to go to the next screen and all you will need to enter is your zip code, hit the apply button and you will get your shipping charges before you have to enter any more information.
WE CAN NOT SHIP CASES OF CANNED FOOD OUTSIDE OF THE LOWER 48.

Prices subject to change without notice. We are not liable for any typographical errors or errors in pricing.
Click Here for Size Chart
Click Here for Women's Sizing Chart
Reg. Price: $6.25
Sale Price: $4.11
Reg. Price: $5.95
Sale Price: $3.87
Reg. Price: $5.95
Sale Price: $3.87
Reg. Price: $5.95
Sale Price: $3.87