BACK IN STOCK AND READY TO SHIP

Please note. Survey Meters CD V-715 are in very high demand yet we are still getting them in and shipping them out as quickly as we can. We cannot cancel orders for these items. If you place an order for one of these, we will charge your card and ship the order.

These Survey Meters CD V-715 are the same-type Civil Defense survey meters and dosimeters are still in current use by thousands of Fire Depts, Haz-Mat and First Responders across the country. We daily have federal and state agencies and municipalities shipping us their Civil Defense instruments to be re-calibrated, as well as from the general public.

This unit is fully calibrated and tested. This process is very expensive. You can buy this type of item elsewhere for well under $100.00 as a novelty but it won't be calibrated and won't work the way it needs to.

High-Range (0-500 R/hr range). 3.25 pounds, die cast aluminum and drawn steel case, watertight, will float. Powered with one D-sized battery, continuously for 150 hours, longer if on intermittent basis.

Instrument accuracy on any of its four ranges is within +- 20% of true dose rate. Accuracy maintained throughout temperature ranges of -20 F to +125 F, relative humidities to 100% and altitudes up to 25,000'. Manual included.

The calibration sticker assures the device meets the current standards of the U.S. Nuclear Industry and the FEMA calibration program. Manual included, uses standard common 'D' cell batteries.

GRADE "A", Used, CALIBRATED.

FULLY TESTED, CALIBRATED AND CERTIFIED TO FEMA STANDARDS IN 2002.

READ THE INFORMATION ABOVE. These units show minor handling wear from decades of periodically being taken out of storage to test and calibrate them. That brief handling often creates minor scratches and surface cosmetic wear. Many also have date stickers upon them, too, indicating when that required normal scheduled maintenance was performed. Nonetheless, the units are completely functional, having been tested, calibrated and certified to FEMA standards in 2002.




- Successfully calibrated instruments are returned with a label affixed to them certifying their calibration and stating who calibrated it and when, along with the serial number and model designation.

- Additionally, a Certificate of Calibration with the actual before and after accuracy responses for each of the different ranges available on the instrument is included.

Info on KI4U, Inc.

KI4U, Inc. is licensed and authorized by the State of Texas (Bureau of Radiation Control License No. L05515) to perform these calibrations at our lab here conforming to the standards as set forth by the State of Texas, FEMA, ASTM and the NRC.




KI4U, Inc. is the only private, non-government, lab that specializes in calibrating all these high-range Civil Defense instruments.

"We utilize the original 'Dept. of the Army - Office of Civil Defense' CD V-794, N.I.S.T. Traceable Cs-137 (Cesium) calibrators that were specifically designed for properly calibrating these Civil Defense meters and dosimeters. (The Geiger Counter based instruments, such as the CD V-700's, are tested and calibrated here with other certified sources.)"




"Our full-time RSO (Radiation Safety Officier) and lab director here, has served as an RSO on three separate licenses. He began his career in the mid-sixties at Oak Ridge National Labs and subsequently served at both Los Alamos National Laboratory and PanTex Nuclear Weapons Plant facility, as well as numerous nuclear power plants. He was a consultant to the Safeguards Program focused on developing the anti-terrorism strategies for nuclear facilities in the US. He was also the Chairman of the Nuclear Technology Program at a southern university for seven years and is the author of five books on the subject. Also, while at the Texas Bureau of Radiation Control, he not only repaired, maintained and calibrated these same FEMA Civil Defense instruments, but was a certified instructor in the proper use of them in a nuclear emergency."




Jig for Remote Range Switching & Adjustments (Jig-ready testing bottom case is used in-place of regular meter case.)




Test Meter in Exposure Chamber with Flex Cable (Range Selector) and Jig Fixture (Range Adjustment) Connected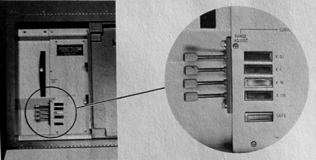 Calibrator Remote Range Adjustment Tuning Knobs (top to bottom: X0.1, X1, X10, X100)

Calibration Fee Schedule

$78.00 - CD V-715

- Turnaround time currently is less than 14 days. We'll update this page promptly if that time frame changes from increased demands.

- All successfully calibrated instruments will be returned with a label affixed to them certifying their calibration and stating who calibrated it and when, along with the serial number and model designation. (See photo above.) Additionally, a Certificate of Calibration with the actual before and after accuracy responses for each of the different ranges available on the instrument is included.

- Dosimeters are first electric leak tested under heat for five days then radiation accuracy tested to mid-scale.

- If the meter or dosimeter is un-calibratable for any reason, we'll still require 1/2 payment for the attempt and to ship back. However, if we determine that the problem is likely a readily repairable issue we'll contact you with a quote for you to then decide if we should proceed with the repair of the unit and attempt calibration again.

- Ship your meters and/or dosimeters in a secure and padded box along with your return address, phone number and a check payable to "KI4U, Inc." to:

KI4U, Inc.
212 Oil Patch Lane
Gonzales, TX 78629

How Good Are These Civil Defense Survey Meters?

From the numerous FEMA technicians who have maintained, repaired and calibrated thousands of these Civil Defense Survey Meters, Geiger Counters and Dosimeters over many years, oftentimes even decades, we heard nothing but praise with a few specific maintenance cautions to be aware of. Most of these technicians have seen the same units come back in from active use in the field for their 1, 2 or 3 year re-calibration certification. (The calibration schedule varies based on the particular application they might be utilized for 'in the field'.) They know first-hand how well they hold up their calibration and can be counted on to perform. (Many tens of thousands of these same exact type Civil Defense radiation survey meters and dosimeters are also currently deployed in various states and amongst hundreds of their local governments First-Responders; the fire, police, EMT, and HazMat teams. I was also notified that a fair number of hospitals also utilize them to periodically check their X-Ray machines, etc. for leaks, too.)

All the technicians variously described the properly maintained, calibrated, and stored Civil Defense survey meter and dosimeter as "accurate", "reliable" and "dependable". Many of these same technicians and radiological officers are also atop the call lists in their respective states for any radiological emergency and many of these same survey meters and dosimeters are what they will be confidently responding with. They know them well and trust them.





SHIPPING TIMES: Most, but not all orders leave our warehouse within 3 business days, some orders may take longer. Allow time from the day we ship for FedEx, UPS or the USPS to deliver it to you from Upstate NY. Please call for rush orders before 2:00 Eastern time. That means that some items, to some locations could take two weeks or more. Remember, we're a 50 year old family run business, so feel free to call us for a rush. We can get most of our items out the same day and use next day air and get it to you tomorrow, but you need to call before 2:00 Eastern time.

SHIPPING CHARGES: To determine your shipping charge, simply add the items that you want to buy into your pack/shopping cart and click on the Secure Checkout button to go to the next screen and all you will need to enter is your zip code, hit the apply button and you will get your shipping charges before you have to enter any more information.
WE CAN NOT SHIP CASES OF CANNED FOOD OUTSIDE OF THE LOWER 48.

Prices subject to change without notice. We are not liable for any typographical errors or errors in pricing.





Click Here for Size Chart

Click Here for Women's Sizing Chart