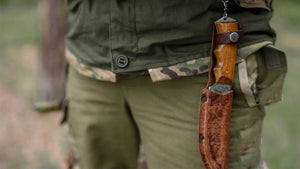 10 Places to Conceal Your Knife
A knife is an incredible tool and having constant access to one gives you so many options. You can cut line, dress an animal, carve wood—the uses are endless.

Depending on your preferred knife, however, it can be difficult to know where or how to conceal it for optimal use.

Here are 10 places to conceal your knife so you are always prepared.
On Your Person
There are many places you can conceal a knife on your body. Your clothing, preferred comfort levels, and use will determine which method is best for you to carry a knife.

You can carry a knife on a pack especially if it has a "pouch attachment ladder system" (PALS) for fastening on "modular load-carrying, lightweight equipment" (MOLLE). However, there are many options for carrying a knife without the need of a pack.

[Related Read: Tactical Packing: How to Load Your Bug-Out Bag Like a Survivalist]
OWB
For a fixed-blade knife, it is very popular to carry the knife in a sheath attached outside the waistband (OWB) on a belt. Fixed-blades are the most versatile for survival, hunting, and other heavy-duty work. You can even open cans. Carrying them outside the waistband gives you the most comfort and quickest draw time.

This is a great way to carry when camping, hiking, or hunting for ease of access and comfort. With the amount of moving done during these activities, OWB carry gives you a lot of freedom of movement with a longer knife.
Scout Carry
The scout carry is a type of OWB carry but the knife is worn horizontally parallel to the belt at your back. This is one of the better methods for concealment and provides a lot of comfort.

It can be a challenge to resheath your knife since you can't see the sheath behind you. If you plan on using your knife a lot every day, then this may not be the right choice for you.

Hikers love the scout carry because it keeps the knife out of the way for safety. Since it is possible you might trip or fall while hiking, the scout carry helps prevent the knife from causing injury if the tip breaks through the sheath.
IWB
If you want to carry a smaller fixed-blade knife that is easier to conceal, inside the waistband (IWB) can be a great option. This offers the most concealability you can find when carrying a knife.

Longer blades will be less comfortable to carry inside the waistband, so this is ideal for smaller knives. It can be quite comfortable if done correctly, however.
Around the Neck
Carrying a knife around your neck is one of the easiest and cheapest carry methods around. This method is better for smaller, lighter knives. It is very concealable underneath clothing but is great for easy access with either hand when worn over top of clothing.

For this method, you simply loop cord through the sheath holes of your knife and put it around your neck. If you don't wear belts often, this might be the method for you.
In Your Pocket
The pocket is a great place for smaller knives especially if they have a clip either on the sheath or the knife itself.

Folding blades can easily clip to your pocket hem or sit inside your pocket due to their small size. Small, fixed-blade knives need a sheath. If there is no clip on the sheath, you can tie cord to the sheath and the pocket lining or some other static point.

Depending on your pocket size, this can severely limit what size knife you carry, but if you just want a small knife (especially if it's foldable) for smaller tasks, then this is a great option.
Ankle or Boot
Carrying a knife on your ankle or in a boot is definitely something we see in the movies a lot, but it is actually a great place to keep a knife. This method was preferred for paratroopers during World War II and many people still carry a knife in this fashion today.

This may not be your go-to knife since it is further away from your reach. If you carry multiple knives, however, this is a great location as a back-up blade.

These would normally be clipped to a boot or (using a strap) wrapped tight around the calf. This makes concealability extremely easy, and it won't hinder your movement.

[Related Read: The 5 Knives Every Survivalist Needs]
In Your Home
The likelihood that you can't find a knife in your home is very small because of kitchen knives, but these are not great for much outside of the kitchen.

Keeping a more versatile knife around the home that is easily accessible can be a huge benefit whether you need to break down a box, cut some branches, or even as self-defense. Your knife should always be sheathed and mounted securely wherever you place it to avoid accidents.
Garage
Folding knives are great for smaller projects in the garage or opening packages whereas longer, fixed-blade knives will do better for more heavy-duty tasks.

Many tool brands make folding knives, so keep one with your yard equipment or your tools so you can find it easily.
Around the House
Think about where you often need a knife to help determine where you should store one. If you don't have a drawer to place a knife, there are different types of sheaths to help make it easier.

Use a magnetic sheath to hold your knife on a refrigerator, washing machine, or anything else made of metal.

If you want one near the front door for security purposes, you can mount a sheath above the door frame or under a piece of furniture. Be sure it is out of the reach of children and securely mounted in a proper sheath.

[Related Read: Caring for the Star of Your Survival Gear]
In your Vehicle
When sitting down in a car, having your knife in your waistband or pocket can make sitting uncomfortable, but it also makes it nearly impossible to draw your knife quickly, if at all. Storing your knife inside the vehicle rather than on your person can make your knife much easier to access in an emergency.
Glove Box
Keeping a knife in your glove box is a great way to keep your knife out of sight and away from kids, but still accessible. Make sure it is properly secured and sheathed in case the glove box opens during a car accident.
Under or Around the Driver's Seat
When a knife is stored near the driver's seat, your knife is within constant reach no matter the circumstance. There are several mounting options available (like strong magnets or Velcro) to keep your knife in place. Again, be sure it is securely mounted to prevent it from coming loose during an accident and stopping you from being able to find it rolling around inside your vehicle.


WARNING: Regulations in your state/country may restrict how you can legally carry a knife in public. This is relevant to both open carry and concealed carry, although concealed carry is generally more restricted. Laws may also prohibit specific types of knives. Always double-check local laws so you don't accidentally end up in legal trouble.
---