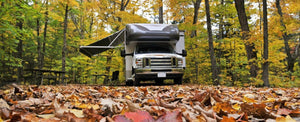 5 Tips For Fall Camping Comfort
Just because the temperatures get a little cooler does not mean you need to put your camping gear away. In fact, some people enjoy camping in Fall because it is cooler and there are less bugs. Another great reason to love fall camping is you will miss the crowds of summer camping.
Sure, the days are shorter, and it is cooler, with a little preparation you can make camping in Fall a fun experience, and we will give you some tips on how to do it.
PREPARE FOR FALL WEATHER
Checking weather conditions where you are going is more important in Fall so you can pack according to the weather. Make sure if it calls for rain you bring a tarp and know how to set it up before you get to camp. This will keep your camp area dry to sit and have dinner and relax. Also make sure you pack an extra tarp or footprint for under your tent, even if rain is not predicted, just in case.
Make sure you have your rainfly for your tent packed. It is great for when it rains, but also will keep the cold cross breeze out of your tent at night.
DRESS ACCORDINGLY
For most of us, it gets a little cooler during the day and much cooler at night, so make sure when you pack your clothes that you do so in layers. During the day you may be fine in a tee shirt and jeans, but at night you will want something warmer to put on, so bring a jacket, long johns, and gloves.
Make sure you pack a rain jacket and heavy socks for at night when it gets cold. Pack spares just in case your original pair gets wet.
SLEEPING
Staying warm while you sleep is important. That is why you should know the temperature rating of your sleeping bag.
If you do not know about temperature ratings of sleeping bags, we will fill you in on that. A 30-degree bag means that if it gets down to 30 degrees, you will not die. It does not mean that you will be warm and cozy when it gets down to 30 degrees. A 30-degree bag in 30-degree weather is going to make for a miserable night for you.
If it does get down to 30 degrees, you would be much more comfortable in a bag that is a 0 or 10 degree. That way you can stay warm and not feel the effects of the cold as much at night. If you already have a 30-degree bag, then no worries, you can always make up for it by bringing blankets from home and wearing more to sleep in at night.
A great camping hack for staying warm it to fill a Nalgene bottle with hot water and bring that with you to bed and store it inside your sleeping bag.
If you have a sleeping pad, you will want to know the insulation value. Most pads measure using an R-value and a higher number will provide more insulation from the ground. (ie: 3.5+)
If you do not want to invest in a higher rating value sleeping pad, then put a cheap foam sleeping pad underneath your inflatable sleeping pad and that should work. Something that puts space between you and the ground is best. If you do not have the money to invest in a sleeping pad, then putting soft items such as dried grasses and leaves inside two contractor grade garbage bags. They lay flat, and it will get you off the cold ground to sleep.
HIKING IN THE FALL
A couple of things to remember when hiking in Fall is the days are shorter and bears are foraging for the winter. Keeping those things in mind, make sure you pack some bear spray, flashlights, and start your way back much earlier than you would if you had taken a hike in the summer.
Make sure when you walk you are making plenty of noise, so you do not spook any bears along the way and keep your bear spray close at hand.
When you make a trek, keeping track of how long it took you to get there, then calculating your way back and how long that will take is much more important. You will lose light earlier, so you will need to be extra cautious about the time.
CAMPGROUNDS
Last but not least, make sure your campground is open. Most campgrounds close in September or October for winter and even forest service roads are closed off for the winter. Making a phone call before you go can save you the hassle of showing up to a closed location.
Fall camping can be an enjoyable experience, one without other people, many bugs, and cooler temperatures. Make sure you bring things to drink like cocoa or your favorite tea and you will be set.
---