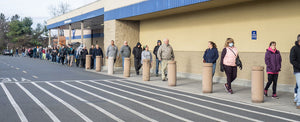 Preparing For Food Shortages
Contrary to what people think, food shortages are common occurrences. They can happen for a variety of reasons and typically end up with the same result. People that lack the foresight to plan ahead for things like food shortages are caught off guard and have to come up with a plan B when others are getting by creatively with what they put together in advance.
There are a few reasons that food shortages can occur:
NATURAL DISASTERS
Floods, hurricanes, tornados, earthquakes, and fires can wipe out crops in a matter of minutes. When this happens, it can devastate the food industry. Sometimes it is for a short period of time and sometimes it can last for weeks, months, or even years. In 2005, Hurricane Katrina in New Orleans left many people stranded without food, clean water, and shelter for days. Japan had a Tempo Famine that lasted for years.
CONFLICTS
Any type of conflict or war makes food production difficult. It slows down food delivery as nations worry less about food distribution and more about the war itself. War can also impact the economy and make it more difficult to purchase food due to the fact that people simply cannot afford it.
Even after the Second Congo War in Africa in 2004, 1,000 people a day died from malnutrition and disease.
PANDEMIC
Food shortages during pandemics are common, as people typically do not interact with one another, making going to work impossible. This is also true for people who work in the food industry. During this recent pandemic, we had many meat facilities close down due to an abundance of COVID cases and even deaths from employees working in these facilities.
When we are told to stay home and not come into contact with other people, we cannot produce the proper amount of food to feed a nation. Right now we are feeling the impact of that as we cannot always get the food we want at the grocery store.
HOW DO YOU PREPARE?
Preparation is being able to ascertain what the threat is and gathering what we need to deal with it. One prepper told us he has everything in his home to cook, eat, drink, and light his house in the event he has no electricity, no running water, and cannot go buy food.
You have to plan the same way.
FOOD
Make sure you have enough food to last the length of time you will need. This is different for everyone, but starting with one month is a great investment. This way you can breathe a sigh of relief that you've got yourself covered for one month if something disrupts the food supply chain.
Also, learn to can and preserve food. Dehydration, freeze drying, and canning are great ways to keep food for yourself and do not take much time or effort.
Everything you do to become self-sufficient will pay off when you need it to. While everyone else is scrambling for food and wondering where their next meal will come from, you will have it stored up. Just make sure you cover all the bases: you will need fruits, vegetables, protein, and carbs.
WATER
Make sure you store up one gallon per day for every adult in your home. This means if you are beginning at one month you will need approximately 30 gallons of water just for yourself.
If your food storage requires water, make sure you store that up separately from what you will need per day.
Keep an eye on the amount of water you are storing and rotate it as necessary. Do your research regarding how long you can store water, the best temperature to keep it at, and how often you'll need to rotate it. Do the same with your food supply. Make sure you know where it should be stored in your home, that it stays at the right temperature, and does not come into contact with light.
Preparing for a food shortage will take a bit of planning and research but being able to put food on the table is essential.
---
4 comments