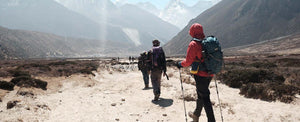 10 Hiking Essentials
Whether you are a seasoned hiker, or just getting out on the trails now, it is always good to go over the basics of what you need to stay safe when hiking. Here are the 10 essentials: 
Footwear - Finding that perfect pair of shoes may take some shopping and walking around to make sure the fit is right, and you have the amount of traction you need depending on what your hiking level is. Make sure you find a pair that not only fit comfortably but will give you the support you need.
Map & Compass – Phone navigation is great, but when you are out in the wilderness you probably are not going to have reception, so have backup and know how to use it. Carrying a paper map will give you the backup you need in case you get lost.
Water & Purification – Take more water than you need, in case something happens, and you need water. Also bringing something to purify your water means you can use streams or rivers for water and do not have to worry about what is in it.
Food – Make sure you have enough food on hand to not only handle the amount of time you will be out, but more. You can get a 3-day pack that you can carry in your backpack with a small pot and you will not have to worry about food in the event something happens, and you need it.
Rain Gear – Having a raincoat and emergency blanket on hand could save you from being drenched in an unexpected storm. Having two of each on hand will help you with shelter and staying dry and keeping your other items dry when it is raining.
Safety Light, Fire, Whistle – Having something to light your way, some method of starting a fire and a whistle will come in very handy when you get hungry, it gets dark, or you need to get the attention of someone.
First Aid Kit – A small first aid kit can save you if you have something happen on your hike that does not require medical attention and you can keep hiking after you have used it.
Knife or Multi Tool – Both would be best, so you have the benefit of the knife, as well as the multi tool in case you need it. A multi tool with fork for eating works best, as well as many other tools that could cut down a small branch, etc. on your hike.
Sun Protection – You will want to take this with you to reapply after you have been exposed to the sunlight for a prolonged period. Make sure you reapply after getting wet or sweating.
Shelter – Bring something with you that you can make shelter out of. A portable tent works well, and does not take up much room, but you could do with an emergency blanket and some twigs if you know how to build one from that.
One thing we carry here at Camping Survival that may help is a 46-piece emergency essentials kit you can find here. That way you can have some things that are on the list (and some that aren't) and it doesn't take up much room in your backpack.
Though this only covers the basics (there is so much more you could take in the event something happens on your hike) it will at least get you started on a safe hike.
Some of us are able to do it now, but those that can't, spring will be here soon!
---
3 comments