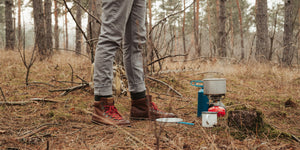 7 Ways to Eat a Tree
Desperate times call for desperate measures. History includes multiple stories of people who had to "eat" (forage) a tree to survive – whether in famine or a situation where they found themselves lost in the wilderness.
But you shouldn't just eat a tree as a last resort. Eating tree parts is actually a nutritious and delicious way to satisfy your hunger. In fact, it has been a part of peoples' diets for centuries. For example, barks were an important staple of Native American diets. 
In addition to indigenous cultures who ate trees, it is also becoming increasingly popular in Scandinavian countries. For example, it is common for people to find ways to eat their Christmas trees. 
Atlas Obscura explains, "Birch bark can be used as a flavoring, providing a sweet, wintergreen kind of taste. In parts of Scandinavia, pine bark is reduced to powder and made into cookies with the subtle flavor of Christmas. The ponderosa pine, for example, smells distinctly of vanilla."
Whether you need to eat a tree to survive when a camping trip goes wrong, or you simply want to try your hand at some new recipes, keep reading to discover which tree parts are versatile and tasty. 
What to Look for When Foraging Tree Parts
If you find yourself stranded in the woods, you shouldn't just start to eat a tree. You don't want to rip off some bark and start chewing. It won't taste good, and you won't actually be eating the part with the most nutritional value.
There is a method if you want or need to eat a tree.
First, you need to know which trees to look for.
Be on the lookout for pine trees. Most pine trees have edible barks, as well as birch trees and firs. 
Next, you need to pay attention to the different parts of the tree. The good news is that most parts of a tree are edible, but they should be eaten differently.
Let's start with tree bark. 
Avoid eating the outer bark, and instead, eat the inner bark (or Cambium). Atlas Obscura explains, "Cambium is the layer of inner bark between the hard wood and the rough, papery outer bark: it's a soft, moist, paler layer, the part of the trunk that is actively growing. It's nutrient rich, and if you taste it, can actually be sweet, though the taste can vary a lot from tree to tree."
When worse comes to worst, you can eat the gummy Cambium. 
In addition to the bark, you can eat several other parts of a tree, including the needles, cones, flowers, and leaves. You can even eat a tree's pollen! Tree pollen works as a flour substitute and a thickening agent. 
7 Ways to Eat a Tree
If you want to eat a tree, it isn't hard to do. There are many ways to do it, including eating directly off the tree and baking up something delicious and savory in a kitchen. 
Below we've compiled a list of different ways to eat a tree. Peruse the list so you have an idea of how to impress your friends and show off your arbor cooking knowledge. 
#1 Boil, Roast, Fry, or Bake
If you find yourself having to eat a tree to survive, you can use one of these four easy methods.
Boil the bark.

If you boil the bark, it will soften it and make it easier to consume.

Roast the bark.

Wrap the bark over sticks and roast them over an open fire, which will make it taste better than raw bark.

Fry the bark.

Grease a pan and cook the pieces of bark over a fire like you would bacon.

Bake the bark.

Dry the strips of bark in the sun or over an open fire. Once dry, you can pound it into a flour substitute for baking.
#2 Pine Bark Bacon
Recipe from Mother Earth News
Ingredients
Fresh, pine inner bark

The lipid of choice (oil, butter, animal fat)

Salt

Seasoning (not required)
Directions
Remove the outer bark and any green, resinous parts. 

Heat a lipid of oil, butter, or animal fat in a skillet over medium-high heat. Use just enough oil or fat to coat the pan.

Fry the pine bark strips on each side until they turn reddish-brown, about 1- 2 minutes per side.

Remove from the pan and sprinkle with salt while still hot. 

Add seasonings if desired. 

Hot from the pan, the texture will be slightly crunchy and slightly chewy, with a hint of sweetness…very much like bacon. 
You can also cook the bark in a pan over a campfire.
#3 Pine Bark Cookies
Recipe from Nordic Food Lab
Ingredients
75g sugar

113g butter

1 egg white

60g pine bark flour

90g wheat flour

2g baking powder

2g salt
Directions
Oven 180˚C

Whip together the butter and sugar; add lightly beaten egg white. 

Sift together dry ingredients and slowly add to whipped mixture. Stir till combined. 

The mixture should be quite fatty. Wrap and place in refrigerator for one hour. 

Roll between sheets of parchment very thinly (at this point, it may be helpful to put the rolled out sheet in the freezer for 5 minutes to firm it up a little bit), and then cut out cookie shapes.

Bake on silicone for 5 minutes—less if they are tiny and more if they are larger. 

Cool.
#4 Birch Bark Flour 
After you dry out the bark, you can grind it until it has a flour-like consistency. This is easy to do with a food processor). You can also grind the bark with a mortar and pestle. 
The flour can then be used for baking bread or cookies.
#5 Pine Needle Tea
Recipe from Mossy Oak
Gather young edible pine needles. 

Run water over them to wash off dirt and bugs. 

Next, chop up the needles and place them in a pot of water. 

Let the water simmer; if the tea comes to a boil, it will break down the vitamins.

When the needles begin to sink, the tea is done. 

Strain the tea into a cup, and it's ready to go.
The tea will be a greenish color. 
#6 Tree Leaves
Many trees have edible leaves that can be eaten straight off the tree or used in salads.
You can also use trees to make a salad dressing.
Pine Needle Salad Dressing Recipe from Learning and Yearning
Ingredients
1/3 cup pine needle infused olive oil 

2 tablespoons fresh-squeezed lemon juice

1/2 teaspoon sea salt

1 clove garlic pressed

1 teaspoon maple syrup (optional)
Directions
Make pine needle-infused olive oil. 

To infuse the pine needles: The needles should first be spread out to dry for a few days. Pack a 1 cup canning jar or other glass container with dried pine needles, leaving a good inch at the top. Cover the needles with olive oil, and put the lid on your jar. Now allow your needles to infuse for a week or two in a warm, dark spot.

After this concoction is ready, combine the remaining ingredients
#7 Pine Nuts
Pine nuts are a delicious treat you can find in the wilderness.
You can roast them over an open fire.
Directions
Place pine nuts in a dry frying pan in a single layer.

Cook until fragrant and golden brown, stirring frequently.

When they're golden brown, immediately stop cooking to prevent burning.
And this is just the beginning.. Have you used any other tree varieties or cooking methods to feed yourself? Sound off in the comments below!
---
3 comments