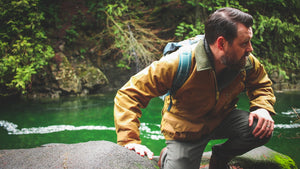 Become a Real-Deal Outdoorsman: Master the 12 Best Survival Handbooks
Unless you're a lot smarter than the rest of us, you're not going to remember every survival tip you've ever heard—especially under the stress of an emergency.
Having a handbook or two packed away gives you LIFE-SAVING knowledge that's worth its weight in gold when SHTF.
To help you find the survival handbook that's right for you, here's a list of our favorites. (You'll notice that we sell quite a few of these—that's because we've done our homework and only sell the best in our store!)
Emergency Medical Handbooks
When professional medical care is unavailable, you'll need to know how to treat a variety of infections, injuries, and illnesses.
Written by Joe Alton, MD and Amy Alton, ARNP—medical preparedness experts—they discuss countless common medical issues related to disasters, epidemics, and the unexpected.
Using their combined decades of medical knowledge and experience, Joe and Amy show you the medical supplies and natural remedies you need to assist your family and community when physicians and pharmaceuticals aren't accessible.
In this book, the Altons operate on the assumption that the worst is actually happening—which means hospitals are either closed, overcrowded, or destroyed, leaving you without professional help when you need it most. 
Learn how to treat appendicitis (and similar conditions), head injuries, animal bites, dislocations and fractures, allergic reactions, pain, and so much more.
In this medical handbook, William W. Forgey, M.D. instructs how to prevent, identify, treat, and manage medical conditions you may encounter in the event of an emergency.
Unlike The Ultimate Survival Medicine Guide, this handbook focuses on how to medically prepare for the worst possible circumstances before they happen. Learn:
How to prevent, identify, treat, and manage survivable medical conditions with minimal medical training.
What materials you will need for medical care in a crisis, the supplies you should stockpile, and how you should store them.
Where you can go to learn more about advanced concepts relating to surgery, dental work, and childbirth.

Filled with photographs and drawings of plants for more visual readers, this handbook is the ultimate guide to herbal healing.
Penelope Ody, the author and a medical herbalist, provides a useful overview of each herb's origin, history, use, and remedies.
You can either search for a specific plant and get more information about it, or you can search for symptoms and find out how to apply natural treatments.
Easy to understand and organized alphabetically, this herbal guide is a beloved favorite among herbal healers everywhere.
Stephen Harrod Buhner, an herbal expert, addresses the reality of the rise of antibiotic resistance in all of us.
With antibiotic treatments present in everything from the animals we eat to the water we drink, herbal antibiotic treatments offer an alternative course of treatment.
Through his thorough profiles of 30 helpful herbs, the author outlines each one's purported antibiotic properties, how to collect and prepare them for use, proper dosages to administer, possible side effects, and interactions with other medicines.
This herbal handbook is a must-have in a wilderness survival situation as well as a helpful addition for medical treatment in your home.
Food and Foraging Handbooks
Author Ellen Zachos outlines foraging for first-timers, from weeds and wildflowers to plants you can find in suburban neighborhoods.
When chaos hits and access to familiar foods may be limited, it's important to know how to identify edible plants in order to survive.
The author includes full-color photographs, helpful background information on each plant, clear instructions on how to eat each plant, and tips on how to avoid inedible lookalikes.
She DOES NOT, however, include any edible plant that she personally does not find appetizing… a helpful touch!
Learn how to identify edible weeds, flowers, mushrooms, and ornamental plants from the wild to your own backyard—literally.
Learn how to look for plant locations, pesticides, pollutions, and other dangers that could make edible plants unsafe to eat.
FOOD STORAGE FOR SELF-SUFFICIENCY AND SURVIVAL: THE ESSENTIAL GUIDE FOR FAMILY PREPAREDNESS
Author Angela Paskett is passionate about preparedness and has put together this guide to teach the basics of food storage, survival, and self-sufficiency. Whether you're a beginner prepper or could use a refresher course, this guide is one to keep on hand as a reference.
In this book you'll learn:
Food storage options for short-term and long-term survival
Food storage and planning methods that meet your family's size and circumstances
Budget-friendly storage solutions
Water storage and purification methods
How to can, freeze, and dehydrate your own food 
Security and Self-Defense Handbooks
100 DEADLY SKILLS: THE SEAL OPERATIVE'S GUIDE TO ELUDING PURSUERS, EVADING CAPTURE, AND SURVIVING ANY DANGEROUS SITUATION

As a world filled with crime, uncertainty, and danger continues to develop, you never know what scary situation you'll face. Mass shootings, terrorism, everyday crime, natural disasters, wars—anything can happen, and we've seen it all happen before. 
No matter how unlikely these events may seem, you need to be prepared for any possibility.
Written by retired Navy SEAL Clint Emerson, readers are provided with proven self-defense skills and solutions that can be improvised in unexpected circumstances.
Whether you need to escape from the inside of a locked trunk, scale a wall, or transform an ordinary object into a self-defense tool, this handbook will show you how... from someone who's seen it all.
Learn to evade capture, slow down the bad guys, deescalate situations, and more with easy-to-understand explanations and illustrations.
EVADING AND ESCAPING CAPTURE
Anybody can be taken against their will. In a disaster, it's even easier for criminals to get away with because the chaos of crisis is a distraction. Written by Sam Fury, this book is filled with life-saving tactics and techniques to help you evade and escape capture.
Learn how to protect yourself online, improve your home security system, create a covert capture kit, escape from restraints, handle hostile negotiations, escape from cars, escape from a compound, and so much more.
PREPPER'S HOME DEFENSE: SECURITY STRATEGIES TO PROTECT YOUR FAMILY BY ANY MEANS NECESSARY
In this book written by Jim Cobb, you'll learn how to secure the perimeter of your property, prepare secure and hidden storage solutions, communicate with intruders, reach agreements, and more in an emergency situation.
These skills and strategies will be helpful if you're ever caught in a civilization break-down.
General Survival Skill Handbooks

US ARMY SURVIVAL MANUAL: FM 21-76
Learn survival skills straight from the source: the US military. 
Published by the US Department of Defense, this survival handbook has a little bit of everything. Straightforward and filled with user-friendly pictures and illustrations, you'll learn the basics of survival in no time. Plus, it's a small size—perfect for packing into your bug-out bag. 
This book shows you how to:
Prepare yourself physically and psychologically for an emergency
Pack survival kits
Give basic first aid
Construct a shelter
Find and purify water
Build and light a fire
Identify poisonous plants
Interact with animals
Navigate a variety of terrains and climates
POCKET GUIDE TO OUTDOOR SURVIVAL
Written by Ron Cordes, Gary LaFontaine, and Stan Bradshaw, this handy guide has a wealth of information you'll find useful in a survival situation. Like the army survival manual, it's pocket-sized and waterproof. It's an ideal companion on a camping trip or packed into your survival kit. It's easy to read with organized, detailed, and succinct information, in addition to being spiral-bound and separated by topic tabs for quick reference.
Learn how to administer basic first aid, find water wherever you are, make emergency signals when you're stuck, and so much more. 
BACK TO BASICS: A COMPLETE GUIDE TO TRADITIONAL SKILLS
Written for those who want to live off the grid, this handbook is filled with helpful information that will teach you how to depend on no one but yourself.
Edited by Abigail Gehring, this comprehensive guide takes you back to the basics that sustained our ancestors long ago. Enjoy hundreds of project ideas and instructions, photographs, charts, and more that will introduce you to the joys and challenges of a self-reliant lifestyle. Life doesn't have to be complicated. Simplify it with this handbook!
Learn how to:
Build a home from logs
Add a fireplace
Dig a well on your own property
Use energy from wind, water, and more to power your home
Plant and harvest your own food, raise livestock, and fish
Bake in the bush
Work with wood, fabric, metal, soap, and other materials to provide yourself and your home with the things you need to survive.
Enjoy yourself old-school style and in the outdoors! 
---
4 comments