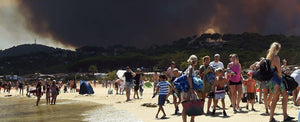 Emergency Evacuations Must-Haves
Though you cannot predict when an emergency will happen that will require an evacuation of your home, it happens to people more often than you think. According to a 2017 FEMA report, more than 8 million people were evacuated that year due to a crisis or emergency. Here are some of the people who were affected by those evacuations:
Flooding in February near the Oroville Dam in California caused an evacuation of over 180,000 people.
Hurricane Harvey struck Texas in August and resulted in the evacuation of over 780,000 people.
Hurricane Irma struck Florida in September and resulted in evacuation orders covering a record 6.8 million residents.
Wildfires in California forced the evacuation of over 100,000 residents.
When prompted to evacuate, most of us are not prepared. We suddenly have to think about what to take, and where it's going to fit in the car. Therefore, we take far too much time to get ready to leave. When you wait like this, it puts you in the position of being stuck in a dangerous situation or in traffic that's at a standstill.
This is why you should make sure your gas tank is always full or at least half full, as evacuating may cause fuel shortages. There is nothing worse than sitting in standstill traffic during an emergency and running out of gas.
To avoid these disastrous emergency evacuation scenarios, you need to prepare for the possibility in advance. The best way to prepare is to store emergency evacuations must-haves that you can simply grab and go.
How to store emergency evacuation supplies
Camping Survival sells pre-packaged meals for emergencies. With so many ways to store these items, the best feature is they come in buckets so you don't have to worry about the food getting wet.
Ideally, and depending on your preference, you will need to store food in a manner that you can just grab and go. Some like a go bag while others like totes they can easily store under the bed or in the closet. Either way, you'll need to make sure everyone knows where this is and can grab it when you are told there is an evacuation order for your area.
All the foods at Camping Survival will need to be stored in a cool, dry location that stays between 55 and 70 degrees.
Safeguarding important documents
It's imperative to take your important documents with you when you evacuate.
Most of the time when you are evacuating, it is because something bad is happening in the area you live. What you do not want to have happen is to come back to your home and all your important documents are destroyed. You may also need them when you return to show authorities the home you are going to is actually yours.
Here is a list of the documents to take with you during an emergency evacuation:
Driver's license
The deed to your house
Your will or trust
Proof of insurance/insurance policies
Medical records
Passports
Social security cards
Birth certificates
Immunization records
Pet vaccination records
If you do not already store these important documents in a waterproof, fireproof safe or box, this is a great time to get one. If you keep all these documents in a safe, then you will be able to grab them quickly before you evacuate.
While many people take a photo of these documents and store them on a thumb drive, you will need to be very careful where that thumb drive is stored. Since it contains all your sensitive personal information, you will need to find a way to store this thumb drive in a place where nobody can get to it.
Why cash is a necessity
You will need to have cash on hand during an emergency, because whatever is evacuating you from your home is also going to make ATM's inaccessible for an undetermined period. It is recommended having 3-5 days cash on hand when you evacuate, just in case.
How much food and water?
Naturally, food and water are important for survival. You will need to have both on hand in the event of an emergency. Experts recommend having no less than 72 hours of food on hand, per person. But many are now saying a week or more is necessary due to the fact that most emergencies are not over in 3 days.
When deciding how much water and food to put in your emergency evacuation kit versus what to stock, the American Red Cross suggests:
Water: one gallon per person, per day (3-day supply for evacuation, 2-week supply for home)
Food: non-perishable, easy-to-prepare items (3-day supply for evacuation, 2-week supply for home)
What else to pack in your bug-out bag
Here are some more emergency go bag must-haves:
Clothing –During an evacuation, you do not have space to pack all your clothing. Clothing is replaceable. Therefore, only pack the clothing items that are must-haves, such as socks, sturdy shoes, pants, and long-sleeved shirts.
Medications –Prescription medications (get refilled before you evacuate if possible) and nonprescription medications such as pain relievers
Baby supplies –Diapers, wipes, and formula
Pet supplies –Pet food and a leash
Hygiene supplies – Wet wipes, hand sanitizer, face masks
Fire supplies – Matches, lighters, or candles
Extra power sources – Batteries and spare chargers
Cell phone and charger
Tarp
Duct tape
Multipurpose tool or a pocketknife
Camping Survival does carry some of these items, and they come in kits that make it easier for you to prepare. Make sure you have these items on hand, so you and your family can be prepared.
---