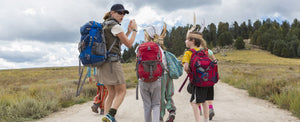 Emergency Preparedness for School Aged Kids (Age 5-10)
Children this age can assist in your family's preparations, they can collect wood, set up camp, gather food, and other things that you deem appropriate for your child to do. With adult supervision, they can undertake many of the tasks that you do yourself, and therefore learn them so they can handle the situation if this happens when they are adults.
Having a child tag along with you while you get together your items, purchase your bug out items, and put them together will assist them in knowing what is needed in the event of something happening, as well as giving them the feeling of being in control and not needing to feel dependent on anyone or any given thing.
Teaching kids some basic survival skills, basic first aid, and basic cooking skills will help them feel like they are able to take care of themselves, and certainly can make them feel like they are more in control and are contributing to the situation.
Teaching a child what to do when people get cuts, bruises, sprained ankles, and any other minor medical emergency can help tremendously when you are busy doing something, so they can take care of it while you continue with what you are doing.
Putting your family photographs, phone numbers, and your address in your child's pocket will assist if somehow you and your family get separated, authorities can get the child back to you. In preparation of this, it is recommended to get these items laminated so moisture doesn't destroy them.
Having a plan is essential, letting your children know that if anything happens you will meet at a specific location, and even running through the plan every 6 months is important. Where will you meet? Who oversees getting everything together? Give the child a specific responsibility. Everyone oversees something, give them a plan and go through this plan routinely.
Sometimes you may be in difficult terrain. In this event, you may need to carry your child. Have a bug out bag that you can carry, or have them carry, while you do this.
What They Need In Their Bug Out Bag: School Aged Kids (Age 5-10)
Toys that don't require batteries: Make sure you pack things that keep your kids busy with their minds and their hands. Pack at least two toys that don't require batteries to keep your child(ren) entertained. Keeping them busy with your setting up camp is best, but not realistic at this age, they will lose interest and you'll need to have something to give them to keep them occupied while you do what needs to be done. Picking out this toy could be a fun activity while you are putting together your bug out bag. Have your child pick it out.
Comfort item: Bringing their favorite blanket, toy, or stuffed animal will give the comfort of being at home, or at least being safe, when you are going through this ordeal. Make sure it is something they choose, and they find to be soothing. It is more convenient when they have 2 of something they really like, so you can keep one in their bug out bag and the other they can use all the time. 
Their own bug out bag: A great idea is to have your child(ren) pack their own bag, as well as carry it themselves. You'll need to be careful they don't weigh it down too much and remind them as they are packing it that they will be carrying it. Pick it up and have them carry it around a bit to make sure it isn't too much. If they do pack what they want, and you've deemed it too heavy for them, you may have to switch some things to your bug out bag. You don't want to have a worn-out child, because then you'll be carrying both their pack, and them.
Making children part of your emergency preparedness plan teaches them the basic principles of survival, and gives them the amount of responsibility they need to grow into adults that can handle situations themselves.
---