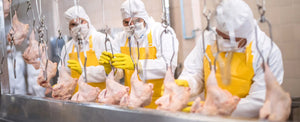 How will COVID-19 Impact the Food Industry?
For many of us, it might seem like everyone is staying home, still buying groceries, and therefore the food industry isn't taking a hit with COVID-19. But that's not the case. The US food chain as a whole is taking a huge hit .
For example, on April 15th, pork processor Smithfield Foods said it would close two plants in areas with a high number of Covid-19 cases after several employees tested positive for the virus. The company says it will pay employees to stay home over a two-week period as essential staff carry out deep cleaning at the facilities. This was a huge blow to pork processing, and continues to be a problem today, as Smithfield Foods has closed their doors indefinitely.
At the same time, JBS began closing certain of its processing plants. On Monday April 20th, the company announced the "indefinite closure" of its Worthington, Minnesota, pork production plant after 20 employees and five of their family members tested positive for the virus. The plant employs 2,000 people, and workers will be paid during the closure.
"If this goes on for a long time, there is a reality of a shortage," said Joshua Specht, an assistant professor of history at the University of Notre Dame who studies the meat industry. "The politics of this could play out that they reopen at enormous risks to workers, rather than face an actual shortage…I wouldn't bet against that."
The reality of meat packing plants is that they are typically located in areas where higher outbreaks of COVID-19 occur, and therefore are more prone to an outbreak.
The dairy industry is also taking a huge hit and has called for government assistance. The International Dairy Foods Association (IDFA) and National Milk Producers Association (NMPA) estimate that supply exceeds demand by at least 10%.
Even though dairy is a staple, during the coronavirus pandemic, the dairy industry has seen some disruptions that are preventing farmers from getting their products to market. With the closures of schools and restaurants, the dairy industry has shifted to selling to grocery stores, causing a gridlock in the packaging and transportation industry. Companies that haul dairy products (which require constant refrigeration) are attempting to hire enough drivers to move dairy products to where it is needed. This has caused a logistical nightmare, as some truckers have decided to stay home amid the pandemic. As food service industries close globally, some dairy farmers are left to throw away their milk instead of sell it.
Because dairy products cannot be frozen and are highly perishable, it is believed the dairy industry took the first and hardest hit of all food industries.
In a team effort to try to advert a food crisis, a coalition of food businesses, including Nestlé, Unilever, PepsiCo and Olam, joined with academics, farming associations, NGOs and other industry groups in a Call to Action for world leaders to avert a global food security crisis. The Food and Land Use Coalition urges the maintenance of global trade, increased access to food for the most vulnerable, and investment in sustainable, resilient food systems to "sow seeds of recovery for people and planet."
Some say we have nothing to worry about—that the meat and dairy industry will go right back to producing food when this pandemic is over and everything will run smoothly again. But it's hard to imagine "business as usual" for a company that's closed its doors for months and has to make up for lost time under new circumstances (and with new regulations).  
Since meat can be frozen, it is best to get it while you can. That way, you won't have to worry about your family going without. And while everyone else frets about toilet paper, keep your eye on the news for plant closures and information on which foods (like potatoes) are running short.
It's also vital you know how to store these foods. Having a cold room where you can keep things like onions, potatoes, and garlic is a great idea, as well as regulating the temperature of your stored food (even canned).
If you don't know how to can, now is a great time to learn. Buy in bulk, can your food, and make a plan to store and rotate your stock.
Grow a garden this year, as the fresh vegetable industry will undoubtedly take a hit.
We would also recommend learning dehydration and how you can store food (especially meats and fruits) easier and longer.
And even if no food shortages occur, you will still have learned skills that got our grandparents through the great depression. You can pass them on to future generations in case something like this happens again.
---
4 comments